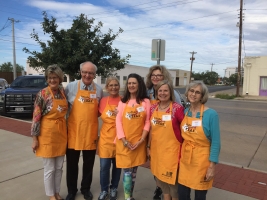 Come join our merry band of volunteers for EnPleinAirTEXAS!
We're known as the 'EPAT Gang' and it takes a lot of good folks to make this event run smoothly while handing out large doses of West Texas Hospitality!
How can you help?
Volunteer at event headquarters, Gallery Verde, during the week to share information about the event.
Volunteer at the many events during the week, taking tickets, greeting artists and guests
Volunteer for a shift on the sales team during the exhibit.
Volunteer to host an artist in your home
Volunteer to carefully help as the artists deliver their paintings in preparation for the exhibit!
Help with delivery and pick-up of signage, equipment, food, during the week's events.
Help set-up and clean-up at various events during the week.
Please email [email protected] with your interests and availability, and we will get you to the proper person!
Thanks to our EPAT Gang Leaders ~
Ellen Lassetter, Host Home Coordinator
Sharon Alexander, Volunteer Sales Team Coordinator
Treva Boyd, Co-chair, EnPleinAirTEXAS
Barbara Rallo, Co-chair, EnPleinAirTEXAS