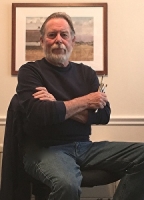 Awarded Best of Show at an exhibit held at the Art Center of Corpus Christi in Dec. 2020.


Featured in an article in the July 2020 issue of Plein Air Magazine, about the Rattle Snake Gang painting in Big Bend.


Best of Show in a Laguna Plein Air Assoc. exhibit in 2019 (Plein Air)
Interesting fact: "I am an avid fly fisherman."