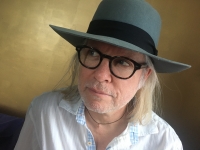 "Thrilled to receive The Artists Choice award at Paint Annapolis in 2020."


"Although I have received all sorts of awards over the years it was wonderful to be recognized as a Stray Calf in 2019, delighted to be returning to the herd."


"I was awarded the Turner medal for watercolour in my native London.(thats the father of modern art, JMW Turner....not Ted Turner)."
Intersting fact: "If I lived in Texas I'd be as poor as a church mouse and have a fantastic collection of boots."