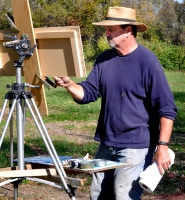 Nationally recognized, and award winning, figurative & landscape painter in oil and mixed media.
Award winning studio photographer of medical, science, and industrial equipment.
Membership in Oil Painters of America, American Impressionist Society, Outdoor Painters Society, Portrait Society of America.
Interesting Fact: "I've been a re-enactor (living historian) for a number of years. Mid-18th century thru late Victorian. It's mainly cos-play but with an intellectual bent..and a musket."