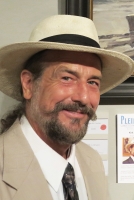 136 awards including Grand Prize & Collector's Choice at Easels In Frederick 2012, Artists Choice Finger Lakes Plein Air 2014 and 7 Quick Draw awards (3 Wins)
OPA Signature member, featured in two National Exhibitions, two Regionals and two Salons with 3 Plein Air awards (1st place OPA Salon 2016, 2nd OPA Salon 2015, Hon Men. OPA National 2015)
Six time selected artist for "The International Marine Art Show at the Maritime Gallery at Mystic Seaport" Museum Purchase Award and inclusion in "Modern Masterpieces" exhibition.
Interesting Fact: Nominated in 2016 for Poet Laureate of Nassau County (NY). A film, TV and commercial actor, and plays a mean blues harp.