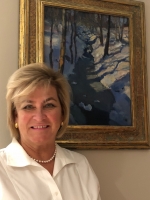 Received every level of award from Best of Show -First Place to Honorable Mention and Artist Choice Awards. "However I have NEVER received a third place award!"


Received the Presidential Award from Wilmington University.


Publications include 100 Mid Atlantic Plein Air Painters ( Schiffer Publisher), HUNT MAGAZINE, Outdoor Painter features, and a recent 'shout out' in American Art Collector.
Interesting Fact: "I hold an earned doctorate, an AGS (Advanced Graduate Specialist Degree) in Policy and Administration, and enjoy working with special needs children and their families."
For now, if you are interested in buying one of the paintings online, you will have to call the San Angelo Museum of Fine Arts at 325-653-3333 and speak with Jan Mulkey.