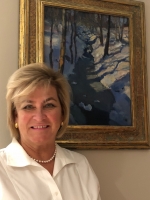 Received every level of award from Best of Show -First Place to Honorable Mention and Artist Choice Awards. "However I have NEVER received a third place award!"


Received the Presidential Award from Wilmington University.


Publications include 100 Mid Atlantic Plein Air Painters ( Schiffer Publisher), HUNT MAGAZINE, Outdoor Painter features, and a recent 'shout out' in American Art Collector.
Interesting Fact: "I hold an earned doctorate, an AGS (Advanced Graduate Specialist Degree) in Policy and Administration, and enjoy working with special needs children and their families."