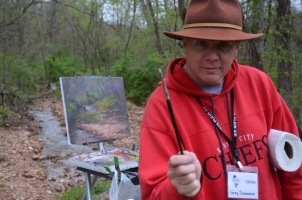 Born in the Flint Hills of Kansas, Gregory Summers began his professional career at Hallmark Cards Inc in 1979.
Former Vice President of the Greater Kansas City Artists Association, co-founder of the Missouri Valley Impressionist Society, and Brush Creek Art Walk: painting competition in Kansas City, Missouri.
Interesting Fact: Long time Cub Master for the Cub Scouts of America, went to school on the GI Bill earned as serving in the US Air Force, and keeps active playing tennis.
"We go outdoors to enjoy the land, or stay inside to avoid it. It is I, an outdoor artist that brings the outside in." R. Gregory Summers