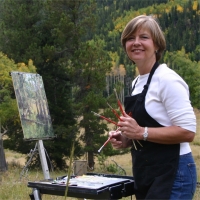 Master Signature Artist – Outdoor Painters Society,

Signature Artist – American Impressionist Society

Awards:




Plein Air Southwest include Best of Show, Award of Merit, Artist's Choice Quick Draw and the Gamblin Award

American Impressionist Society include the Award of Distinction, Isabey Award for Plein Air Quick Draw and Honorable Mention. P

articipated in En Plein Air Santa Fe, Cape Ann Plein Air,

Lighthouse Plein Air and En Plein Air Texas.
Interesting Fact: "I am an avid gardener. I worked as a Certified Public Accountant for 18 years and returned to college to study art. I speak Spanish and have volunteered/worked with orphaned and abused girls in Mexico."