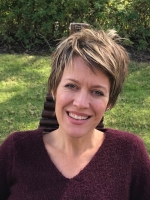 • Winner of the Body of Work Award, & Museum Purchase Award, 2020 EnPleinAirTEXAS
• Juried into the 2016, 2017, 2018 and 2019 Festival of Arts/Pageant of the Masters art spectacular in Laguna Beach, California.
• Awarded an Extraordinary Ability Green Card by the USCIS as an artist applicant.
Interesting fact: "My native language is Afrikaans which is widely spoken in South Africa where I was born and raised."
For now, if you are interested in buying one of the paintings online, you will have to call the San Angelo Museum of Fine Arts at 325-653-3333 and speak with Jan Mulkey.