2014 EnPleinAirTEXAS INVITED ARTISTS
Five extraordinary artists have been invited to join the Competition Artists for the 2014 EnPleinAirTEXAS event. Each has a special connection to San Angelo or to the foundation of our inaugural event and brings an enthusiastic following of admiring fans. We are proud to welcome them!

NANCY TANKERSLEY, Easton, Maryland
DAVID CSONT, Mt. Lebanon, Pennsylvania
FRANCOISE VALENTI, Roussillon, France
MARGARET HOYBACH, Summerville, South Carolina
MARY MARGARET PIPKIN, New Market, Virginia

---
---
---
Nancy Tankersley
Easton, Maryland
Despite a lifetime of moving around the United States as part of a military family, Tankersley has always regarded the coastal areas of Maryland and Virginia as home. She currently resides in Easton, Maryland where she has her studio. She likes to paint all subjects including figures and portraits, landscapes and still life. "I think it is important for contemporary artists to capture the land and the people as they are today. I do not try to romanticize or invent my subjects, but I do try to show the beauty of the ordinary. People engaged in their occupations, enjoying their leisure time by eating, shopping or just strolling down a street... all of these are ordinary subjects which can make extraordinary paintings. I try to paint from life as much as possible so that my work has the authenticity that comes from capturing a moment in time."
The painter has had many awards in her career and has been juried into international competitions such as the annual Salon International, the American Impressionist Society Annual Exhibit, and Oil Painters of America. In 2013 she won Second Place in Plein Air Easton and Third Place in Richmond Plein Air.In 2008, the artist was honored to be selected as one of two painters from the Eastern Shore to be part of a show titled "Making Art: Explorations in Process" at the Academy Art Museum in Easton, Maryland which included notable American artists from the 19th and 20th centuries and works borrowed from major museums including the National Gallery of Art and the Brandywine River Museum. In 2004, her painting "The Pink Scarf" was chosen as one of twelve to represent the 3000 member Art League of Alexandria during their 50 Year Anniversary Gala celebration.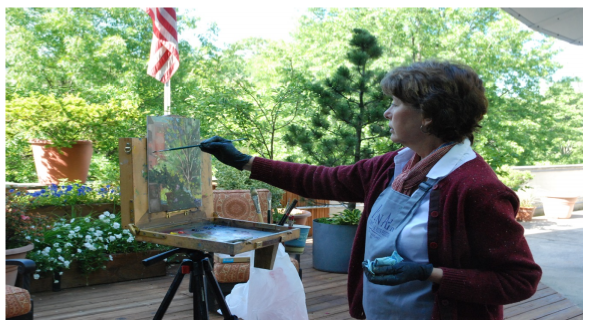 Nancy is a member of the 100 year old Washington Society of Landscape Painters, the Salmagundi Club in NYC, the Oil Painters of American, the American Impressionist Society, & a Signature Member of the Mid-Atlantic Plein Air Painters. One of the founders of Plein Air Easton!, & a chief organizer for the first three years, Tankersley participates as an artist in numerous national level plein air competitions, & in 2013 she won Second Place at Plein Air Easton & Third Place at Plein Air Richmond. The artist is frequently sought as an advisor for fledging plein air competitions. Appearing frequently in Plein Air Magazine, the artist will be featured in the 2014 August/September issue.
A founder of the Easton Studio & School, a workshop facility that hosts workshops given by top painters from all over the country, Tankersley credits her current level of professionalism to knowledge she gained in workshops. In addition to seeking out and hosting a wide variety of instructors, Tankersley also teaches clinics and workshops several times each year. She has served as Juror for numerous regional and national competitions and in 2013 was the October November judge for the Plein Air Salon, a national competition sponsored by Plein Air Magazine.
---
---


David R. Csont
Mt. Lebanon, Pennsylvania
David is a nationally recognized illustrator & educator with over twenty years of experience in the visualization of architecture. A key member of the UDA design team, David's unique talents include the ability to translate urban design & architectural concepts into three-dimensional perspective drawings in a variety of traditional & digital media. These images become an integral part of the marketing program for each project because they can easily communicate complex ideas to a varied audience. His ability to combine a fine art sensibility with the illustration of architecture has resulted in a painterly style that is characterized by strong bold color & dynamic composition.
As a member of the American Society of Architectural Illustrators (ASAI), David's work has been recognized in the juried exhibition, Architecture in Perspective, in 1989, 1996, 1998, and 2005 through 2013. He served as President of ASAI in 2007, and organized the AIP 22 Exhibition and Conference in Pittsburgh. In 2012, he was awarded the best informal Sketch category award from ASAI. David is also a skilled and experienced plein air painter. He competed in the PleinAir Easton Festival in 2010 through 2013, winning an Honorable mention award, and is invited to PleinAir Easton in 2014. In 2012 David created and managed Plein Air Mt Lebanon: a seven-day plein air painting and arts festival in Mt Lebanon Pennsylvania.
His work also remains in many private and public collections. He has conducted many seminars and lectures and is committed to the exploration of art and illustration as a means to effectively communicate design ideas. David's architectural illustrations are highlighted in The Urban Design Handbook and The Architectural Pattern Book, both by Urban Design Associates and published by W. W. Norton Company.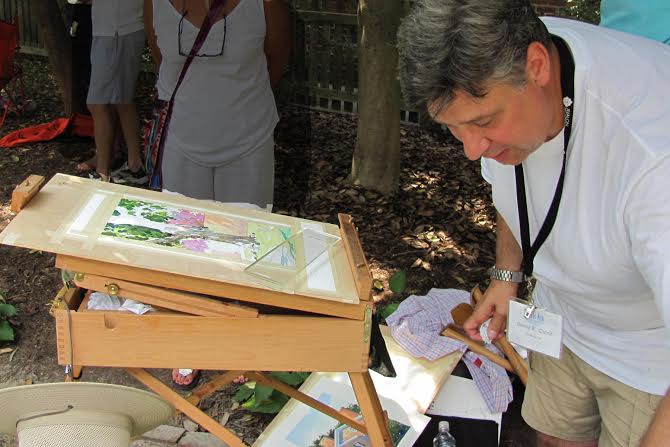 David is a Magna Cum Laude graduate of the State University College of Buffalo with degrees in design & art history. In 1995, he completed his Master of Fine Arts Degree with honors at the University of Wisconsin-Madison.
David has served as an adjunct professor specializing in illustration and design at the University of Wisconsin-Madison, the University of Cincinnati, and Northern Kentucky University. He is actively involved in guest lecturing and teaching and has conducted education programs at The University of Notre Dame, Hampton University and the Carnegie Mellon Institute.
---
---


Francoise Valenti
Roussillon, France
Francoise was born in 1946 in the Aveyron Region of S.W. France.
It seems she inherited her painting passion from her grandfather who was a skilled amateur & was also very fond of working in the "great outdoors." When she was 11 years of age she captured the attention of her drawing teacher. Her mother further encouraged Françoise in her development as an Artist by providing private art and modelling lessons up until the age of 18. Following that, she attended Montpellier University, studying Art History.
Since 1992 Françoise has worked and resided in Provence. After presenting exhibitions of her work in Paris, Rodez, Sarlat, Grasse, London, Stockholm and San Francisco, she now welcomes visitors and clients in her own Gallery in the beautiful village of Roussillon, in the Vaucluse department. Françoise loves painting in the outdoors, inspired with the natural beauty of her Luberon Valley, providing a rich tapestry of old farms surrounded by cherry, olive and almond trees; small lanes of iris, fields of red poppies, sunflowers and lavender.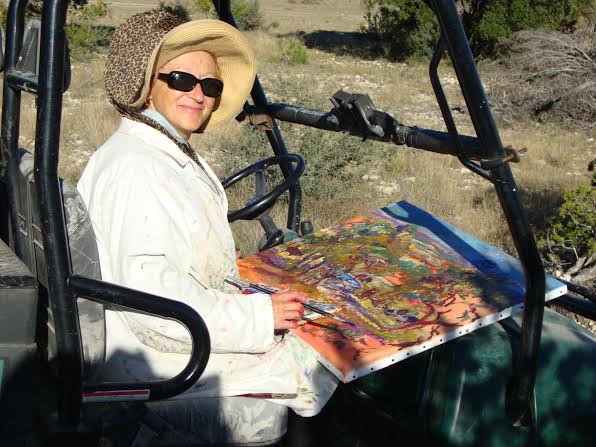 Françoise is an avid traveler, enjoying extensive visits to the Far East, China, India, Australia, United States, Senegal, Sweden and many parts of Europe. She spent 20 years in Paris where she further improved her skills and talent through her collaboration with the Maig Davaud Gallery, in the Rue de Seine. In recent years she has become a regular visitor to Tuscany and the U.S.A. where she has numerous collectors of her work.
---
---


Margaret Hall Hoybach
Summerville, South Carolina
The coastal regions of the United States have provided her with a rich inspiration for her water colors of the sea coast, the birds of the marshes, & lush florals. Her works of nature combine integral detail with impressionistic interpretation. The vibrant colors which highlight her paintings also show the influence of her travels in the Far East.
Margaret is a lecturer at colleges, museums, and professional organizations and has taught seminars throughout the United States for the last thirty years and Europe for the last ten years. Hoybach has juried and judged numerous shows in the southeastern United States.
Hoybach has a public educational television series, "The Artistry of Margaret Hall Hoybach", which was produced & aired in the Washington, D.C. area. Hoybach's book , "Colors of France – A Painting Pilgrimage", the story of her trip to paint in Monet's garden in Giverny, France, was published in 2002.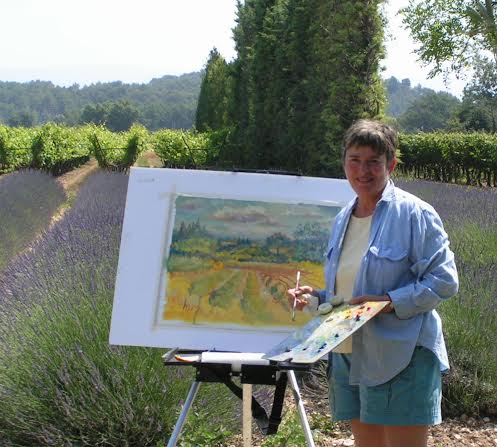 ---
---

Mary Margaret Pipkin
New Market, Virginia
Mary Margaret is a native Texan who was born and raised in San Angelo. She received her BFA and MFA from the University of Texas at Austin in 1973 and 1975 and studied painting at the Brooklyn Museum Art School in New York as the recipient of a Max Beckmann Scholarship. Pipkin is known for her large scale and intimate watercolors exploring the beauty of the natural world.
She has found the time working outdoors, en plein air, to be a great compliment to her studio work. In contrast to the large-scale water- colors, measuring up to 60", outdoors she works in oil paint on smaller post-card size paintings, mostly 6" x 8." The chance to spend time in nature, working directly from life, with the changing light and weather is a joy and a challenge which brings new life & energy to her studio work as well.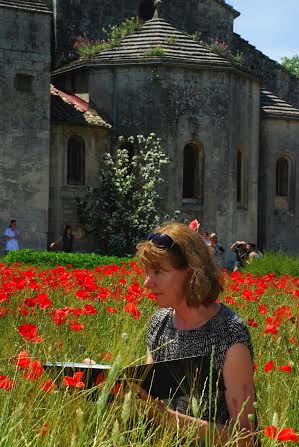 Pipkin's watercolors have been seen in one-person shows across the country, including The U.S. Botanic Garden in Washington, D.C, the Museum of Arts and Sciences in Daytona Beach, the Olbrich Botanical Garden in Madison, Wisconsin, the Museum of The Southwest in Midland, Texas, and the San Angelo Museum of Fine Arts. Her work is included in the collections of the Smithsonian Museum, the U.S. Botanic Garden, the Washington Post, National Institutes of Health, and the Fannie Mae Corporation.