Rescheduled!



Building Skills, Visualization & Confidence
3 Day Watercolor Workshop with Richie Vios
August 7 - 9, 2020. San Angelo, Texas
Gallery Verde, 417 South Oakes, San Angelo Museum of Fine Arts
2019 EnPleinAirTEXAS "Spirit of San Angelo" award winner Richie Vios of Victoria, Texas will teach a 3-day workshop helping students understand the four pillars of watercolor: Shapes, Values, Edges, and Color. Richie promises energetic demonstrations each day as students learn to understand center of interest and gradient interest, light vs dark, soft edges vs hard, the importance of Tonal Value studies, and how gravity and timing play a vital role in successful watercolor paintings. Workshop participants will work with geometric forms for compositional studies; study light sources, landscapes, and atmospheric mood paintings.
All levels are accepted for the workshop, but you should have some experience with watercolor and drawing. Request a supply list by email: paint@enpleinairTEXAS.com. Tables and chairs are provided.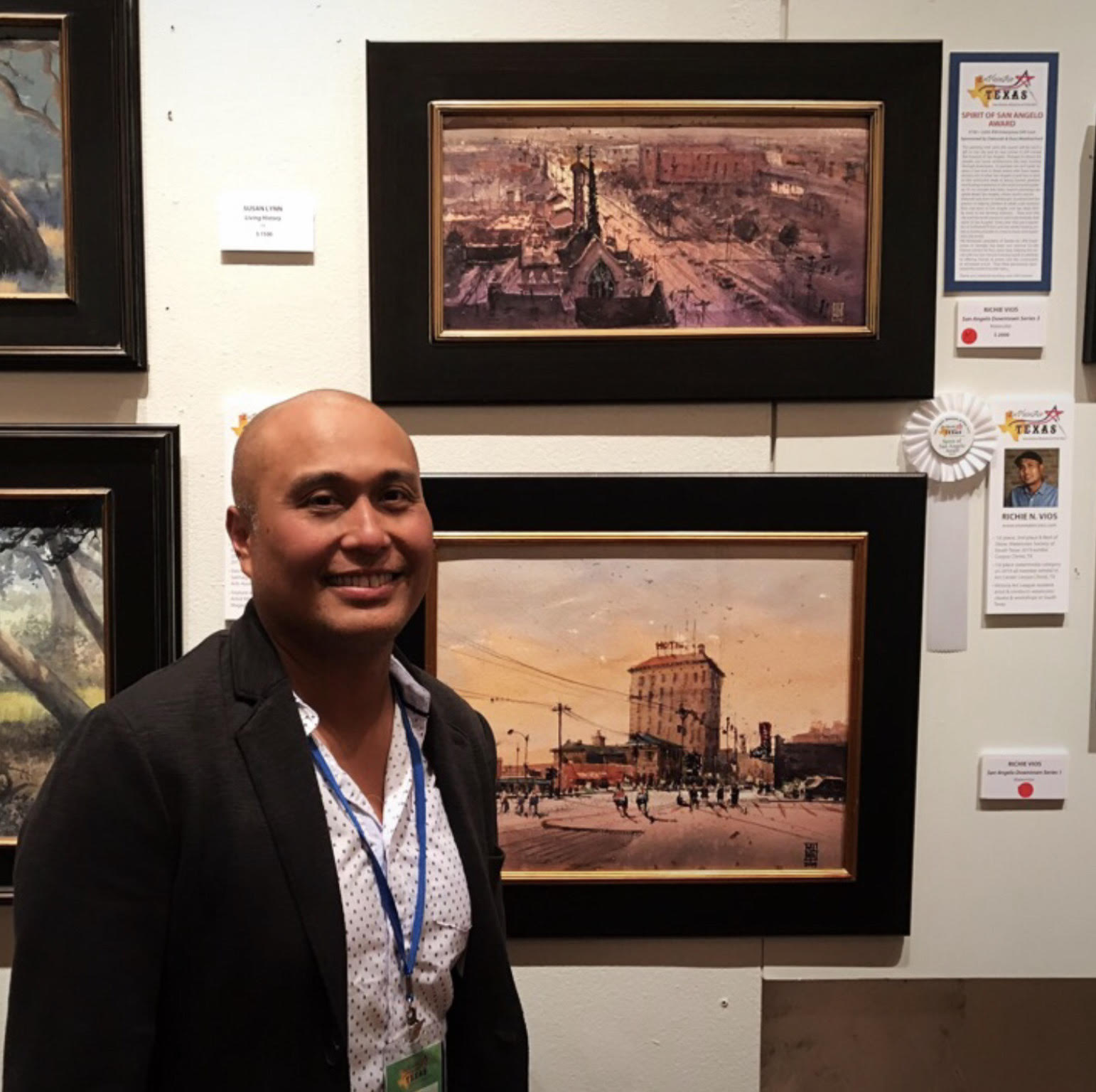 WATERCOLOR WORKSHOP with
Richie Vios
August 7 - 9, 2020
3-day Workshop Cost: $300
Deposit of $125 due with registration.
Pay online at www.samfa.org/adult-workshops
or make check payable to SAMFA and mail to:
SAMFA, One Love Street, San Angelo TX 76903.
(Write VIOS Workshop on check.)
Deposit non-refundable after July 10, 2020
unless Someone takes your spot.
Final payment due July 10, 2020.

Hosted by the San Angelo Museum of Fine Arts