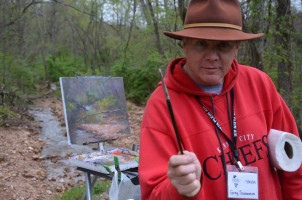 Born in the Flint Hills of Kansas, R. Gregory Summers began his professional career at Hallmark Cards Inc in 1979.
Co-founder of the Missouri Valley Impressionist Society and Brush Creek Plein Air Competition, Kansas City, Signature member American Impressionist Society
Interesting Fact: Long time Cub Master for the Cub Scouts of America, went to school on the GI Bill earned as serving in the US Air Force, and keeps active playing tennis.
"Plein Air isn't always about what goes on canvas. Sometimes, it's engaging with the world and the people around you."