2020 EnPleinAirTEXAS Events
October 17 - 24, 2020
Yes, the artists are still coming and will be painting in our area and on some fabulous private ranches! We've made some changes to many of our events in order to keep all participants AND our artists safe during these times.
Watch for new updates and additions on this site.
GALLERY VERDE, Event Headquarters at 417 S. Oakes, will be open limited hours, but all activities will be posted on the windows and on this website.
GREEN items are events free and open to the public!
ORANGE items are events that require a ticket.
BLACK items are private paint sites & events for Competition Artists only.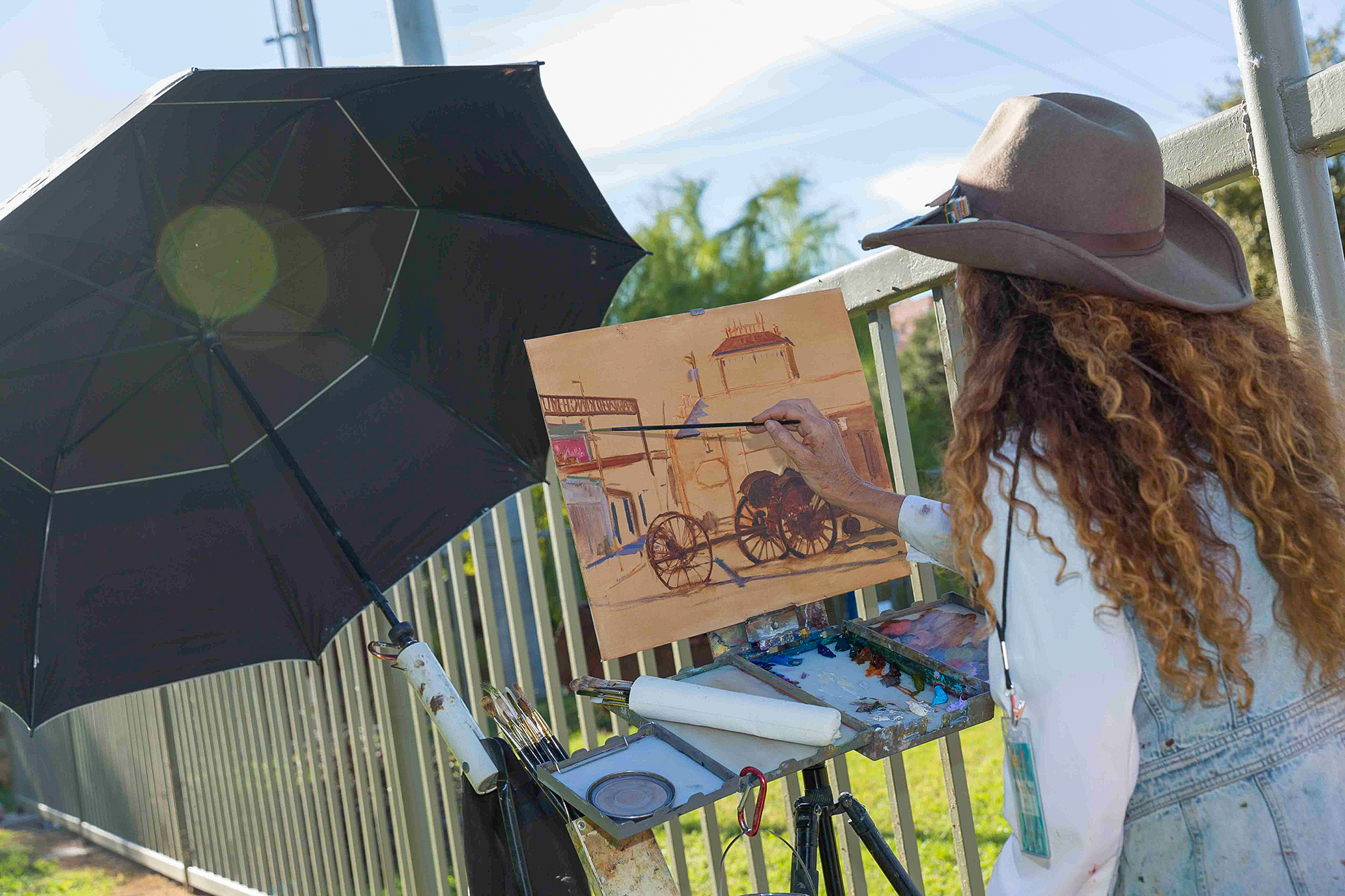 SATURDAY, OCTOBER 17, 2020
PRE-EVENT PAINT-OUT AFTERNOON in San Angelo!
GALLERY VERDE, 417 S. Oakes, is EVENT HEADQUARTERS & open today 10 am to 5:30 pm.
It's your first opportunity to come WELCOME the 2020 EPAT Artists to town and watch them paint at several advertised locations around downtown!
The artists will gather around 4:30 at GALLERY VERDE, with their easels and the day's paintings. Come see our city through their eyes. Paintings are for sale and exhibited in Gallery Verde during the week. All sales benefit the artists AND support SAMFA's Children's Art education programming.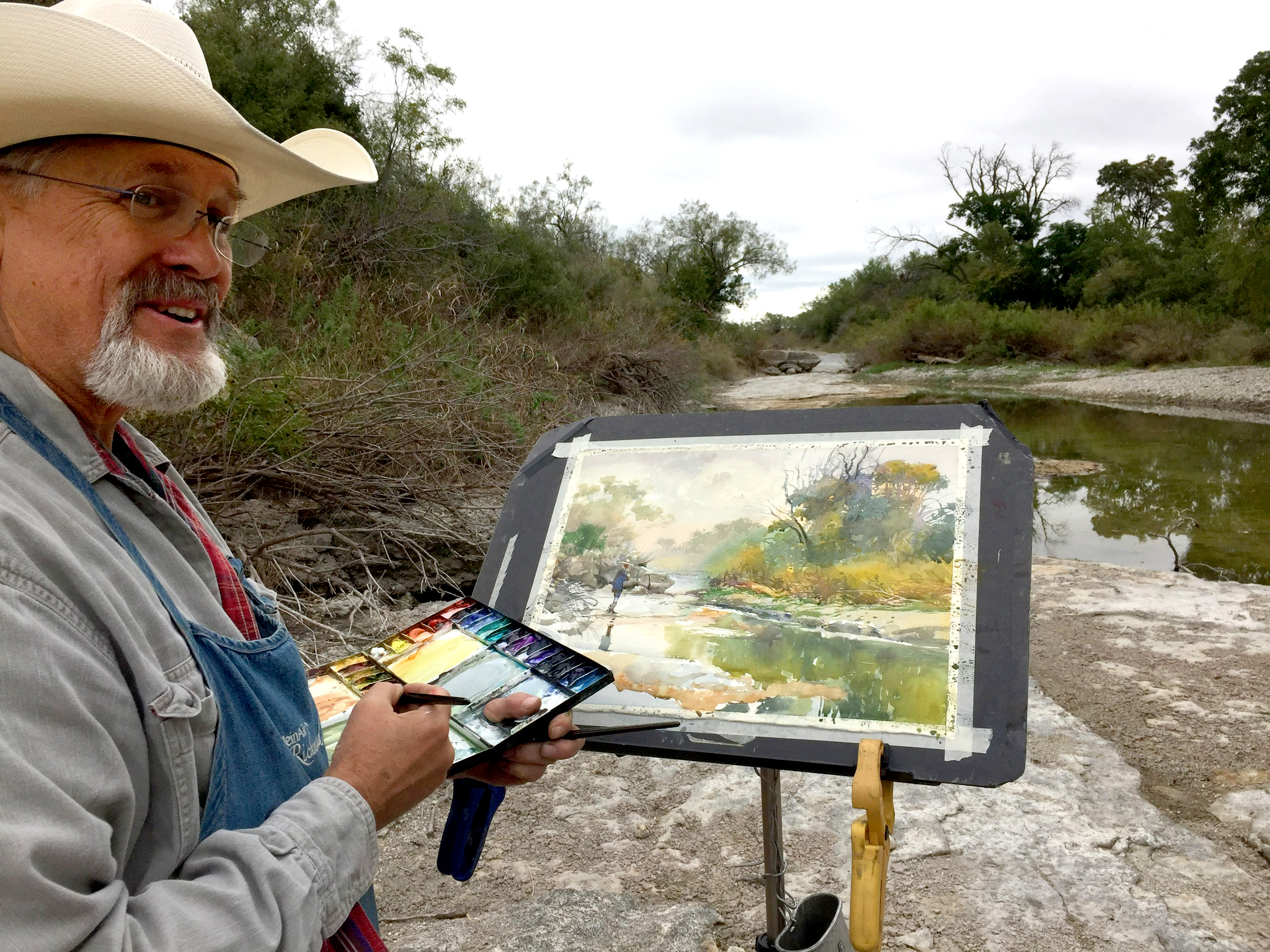 SUNDAY, OCTOBER 18, 2020
The Competition Artists will officially check-in this morning. Artists will spread out in the countryside East of San Angelo to PAINT-OUT locations in the Veribest, Wall, Paint Rock and Miles/Rowena areas. The 3Nail Ironware shop will be open in Paint Rock from 1 - 4 pm and you may find some artists in the neighborhood.
GALLERY VERDE OPEN TODAY 11:30 am to 2:30 pm.
The public is welcome to drive out and watch the artists - but we cannot guarantee where they will get inspired and if you will find them today! Our SAMFA media team will be out with the artists and will be streaming videos of artists painting on the EPAT website later in the afternoon.


MONDAY, OCTOBER 19, 2020
Competition Artist Paint-Out on a private ranch near Susan Peak.
GALLERY VERDE open 10 am to 4 pm. Come check out the latest paintings!
The SAMFA media team will be filming videos live on Plein Air Texas & SAMFA Love facebook pages and our website of the artists painting in various locations on the ranch.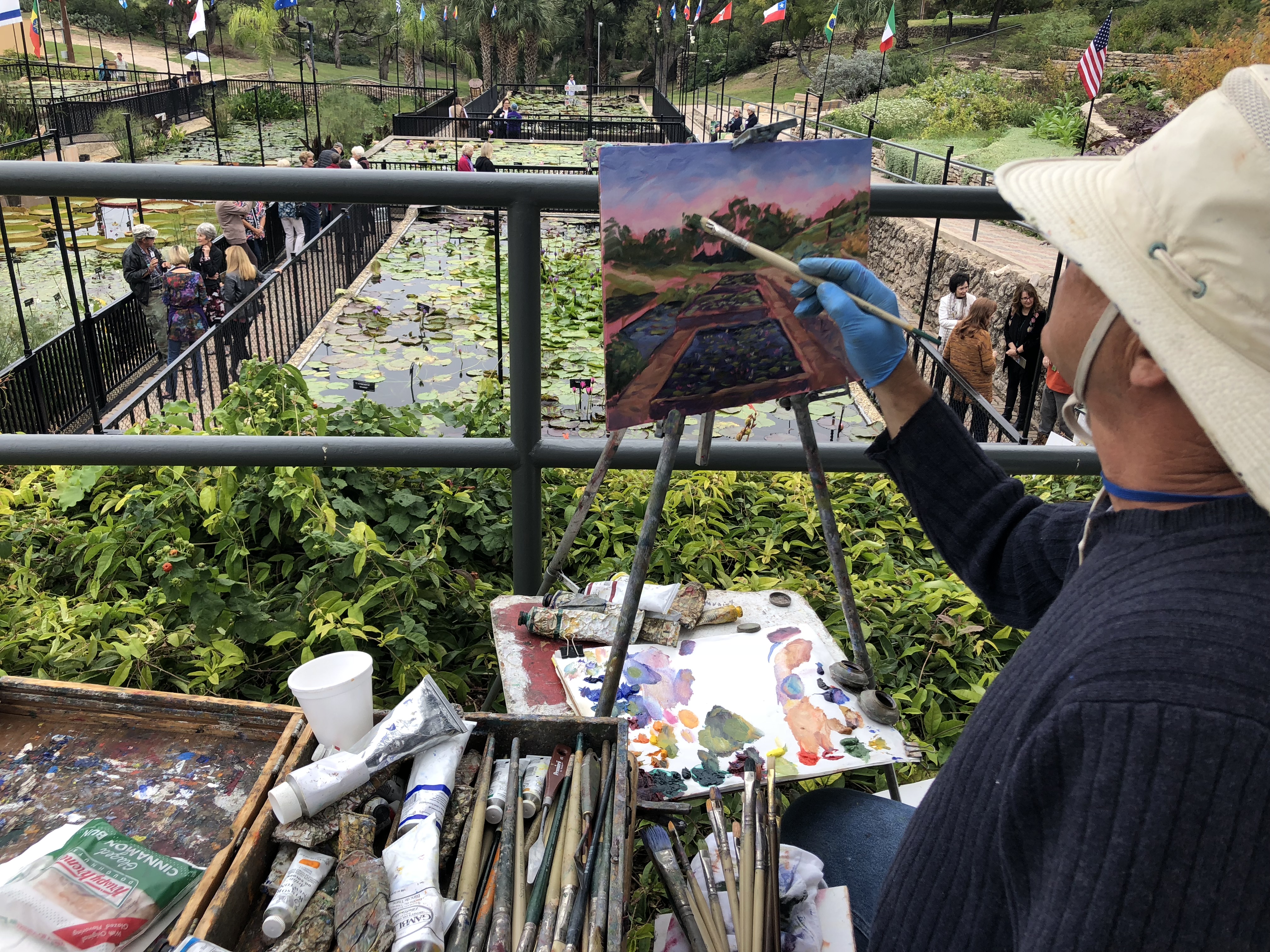 TUESDAY, OCTOBER 20, 2020
A magical Morning as around 12-15 of the artists Paint at the INTERNATIONAL WATERLILY GARDENS, 2 S. Park Street! Come wander among the lilies this morning and watch your favorite EnPleinAirTEXAS Artists paint at the park.
Our annual Luncheon is not being planned this year due to safety concerns.
Some artists will be painting in Christoval today and you may find them around town, check the low water crossing area, Pugh Park, and the Christoval Winery later in the afternoon. Again, we will be posting videos on social media all day from the waterlily gardens and the ranches!
GALLERY VERDE is open 10 am to 2 pm today. Stop by and see the paintings from earlier this week! All paintings are for sale and this is your last chance to see or purchase them before the Awards Exhibit on Thursday evening!


WEDNESDAY, OCTOBER 21, 2020
Competition Artists painting on a private ranch West of San Angelo.
Gallery Verde is closed today.
Check out our Plein Air Texas & SAMFA Love facebook pages for some fabulous videos while the artists are painting on this ranch today!

THURSDAY, OCTOBER 22, 2020

Competition Artists turn-in their paintings from the week this morning to prepare for judging & tonight's opening exhibition and awards presentation.
ART COLLECTORS STAMPEDE AWARDS EXHIBIT & SALE ~ A NEW night & LOCATION this year!
6:00 to 8:00 pm ~ THE STABLES, Fort Concho, 210 Henry O. Flipper St. This year's crowd for the STAMPEDE is limited to EnPleinAirTEXAS Sponsors only. Your Sponsorship of $500 or more entitles you to two tickets to the STAMPEDE. MASKS WILL BE REQUIRED INSIDE THE EXHIBIT and there will be no food or drink during the event for safety precautions.
7:00 pm ~ AWARDS PRESENTATION by 2020 judge Tim Newton of Santa Fe, New Mexico. Limited distanced seating.
AWARDS WILL BE LIVE-STREAMED ON OUR FACEBOOK PAGE AND AFTER 8:00 pm, the 2020 EnPleinAirTEXAS Competition Paintings will be AVAILABLE FOR VIEWING and for ONLINE PURCHASE!
Keep in mind that paintings will be selling in person during the STAMPEDE and Friday during the exhibit. We realize everyone may not be able to attend the event - but we want you to see the incredible artwork and find something you can't live without!


FRIDAY, OCTOBER 23, 2020
9 am to 5 pm ~ THE 2020 EPAT EXHIBIT & SALE OPEN TO THE PUBLIC
It's the FINAL DAY with FREE ADMITTANCE today at the STABLES Building at Fort Concho! Come see this panorama of West Texas interpreted in ways you cannot imagine. Seeing over 250 paintings all together as you enter the buildings is quite an experience and we are certain you'll find a few you can't resist! If you cannot attend, all available paintings will be for sale online on the EnPleinAirTEXAS website. All purchases benefit the San Angelo Museum of Fine Arts and the Artists.
9 am - "MINI-PEARLS of the CONCHOS" PAINTINGS are now hung! Each artist has painted one small painting during the week (6"x 6" or 6"x 8") and these may be viewed at 9 am this morning for the first time! All are for sale!
ARTIST DEMONSTRATIONS - FREE and will be ongoing during the day - inside, outside, & across the street at Fort Concho. Some seating may be limited. Watch this site for updates on artists and demonstration topics closer to the event.
4:00 pm - JUDGE'S TALK - FREE but with limited seating. Come watch as Awards Judge Tim Newton showcases the winning paintings and gives his reasons for his choices.
5:30 p.m. - EXHIBIT CLOSES! Did you get that painting you wanted?


SATURDAY, OCTOBER 24, 2020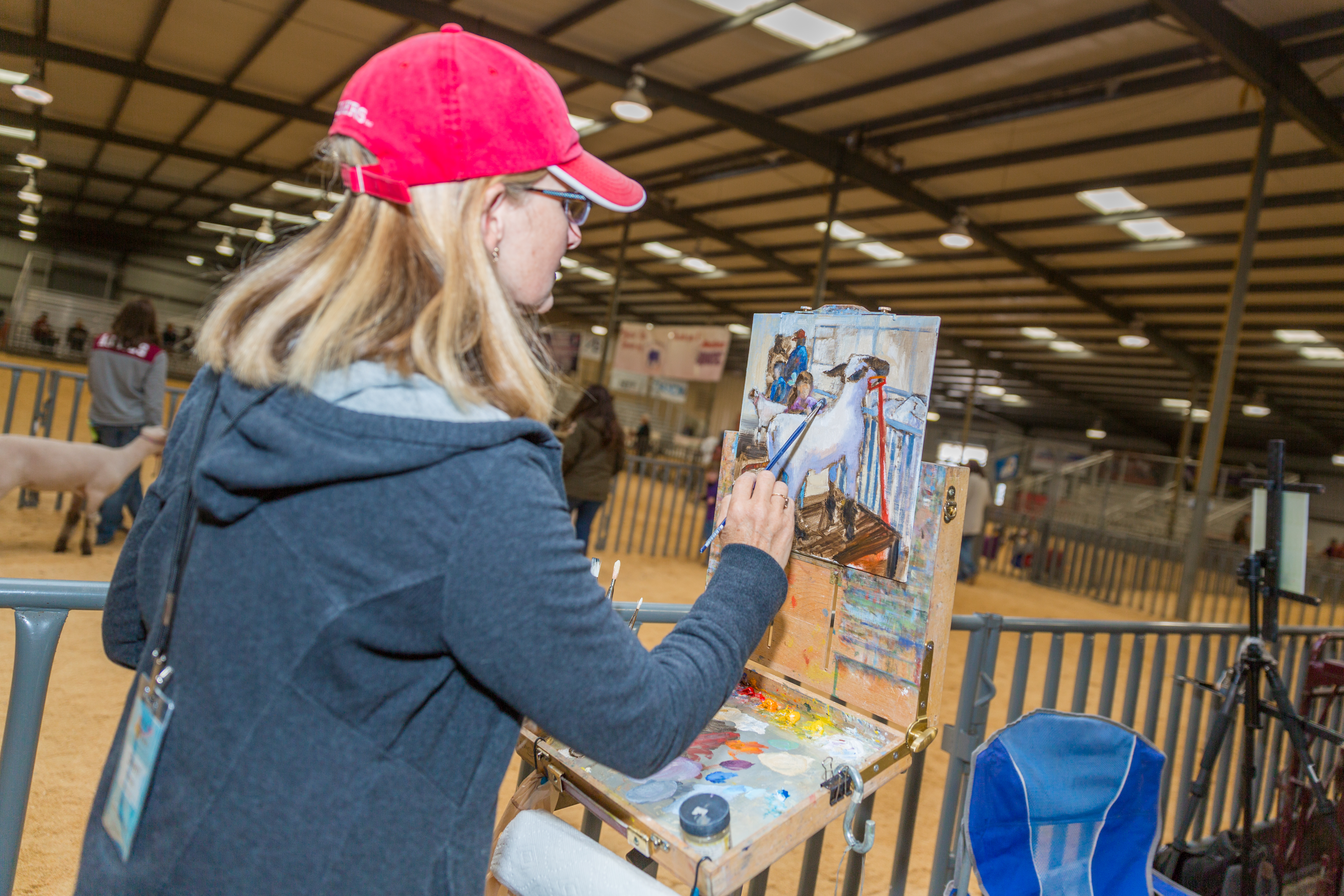 MORNING PAINT-OUT at the ROPING! ~ 8am to Noon ~ Come wander and watch at the SA Fairgrounds for free. For many of the artists, this is something completely foreign to them and they look forward all week to this event! Meet the artists and 'rope yourself a colorful memory' of cowboys and paintbrushes! Sales today benefit the artists and SAMFA.
HIGH NOON ~ Exhibit, SALE & Awards outside the Housley Building. Come find your favorites!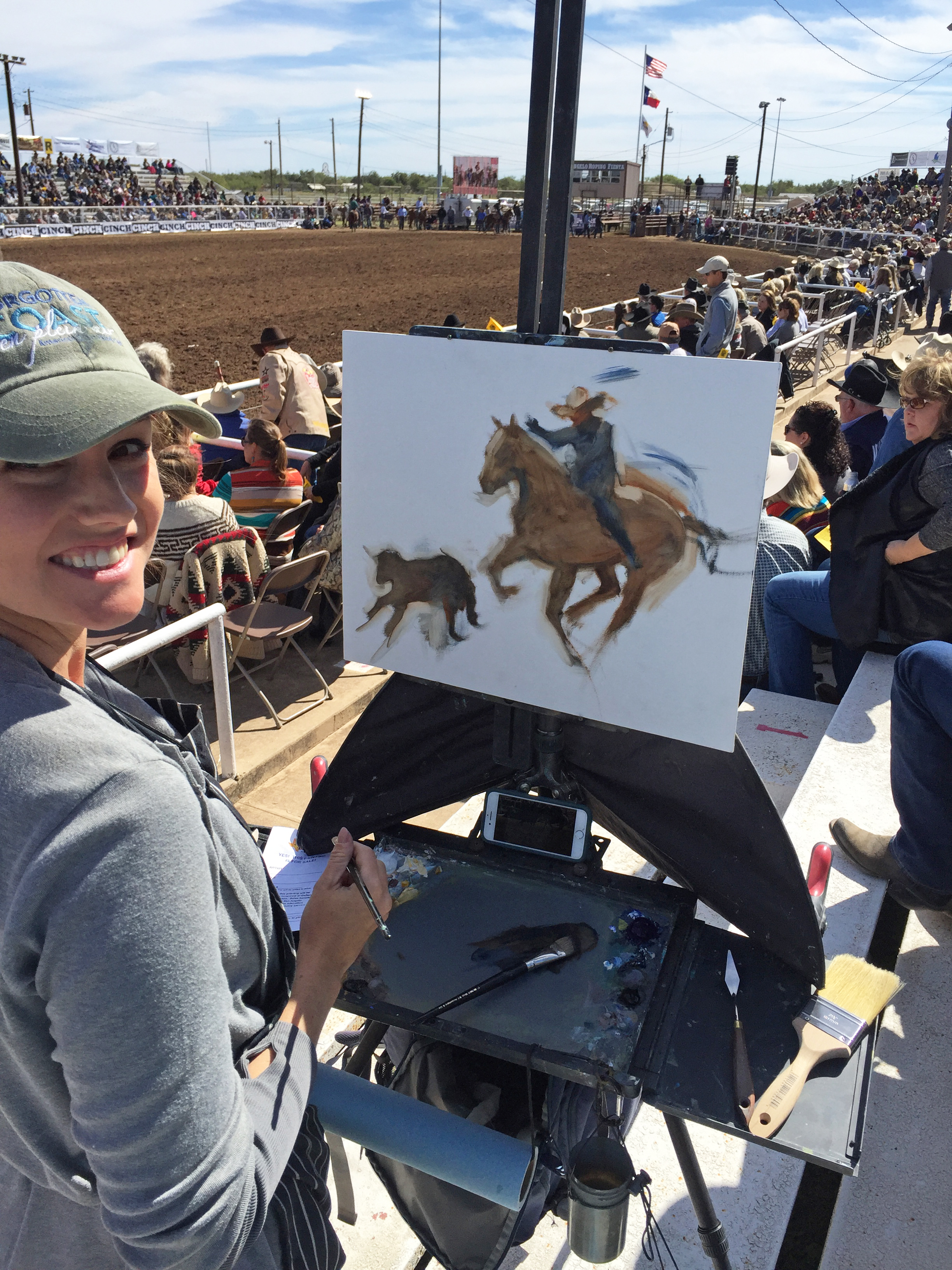 67th ANNUAL ROPING FIESTA ~ Some of the Competition Artists will stay and be in the stands this afternoon at the 67th annual San Angelo Roping Fiesta! Roping tickets are $12 and may be purchased at the gates.
4:00 to 5:30 pm ~ 'ADIOS' TO THE ARTISTS! ~ GALLERY VERDE will host the artists and their remaining Roping paintings outside the gallery and a small group of paintings from the week inside the gallery. Your last opportunity to visit with the artists about their experiences here in West Texas and see some of their paintings before they head home!