2019 EnPleinAirTEXAS Events
Please check back often for added information!
GREEN items are events free and open to the public!
ORANGE items are events that require a ticket.
BLACK items are private paint sites & events for Competition Artists only.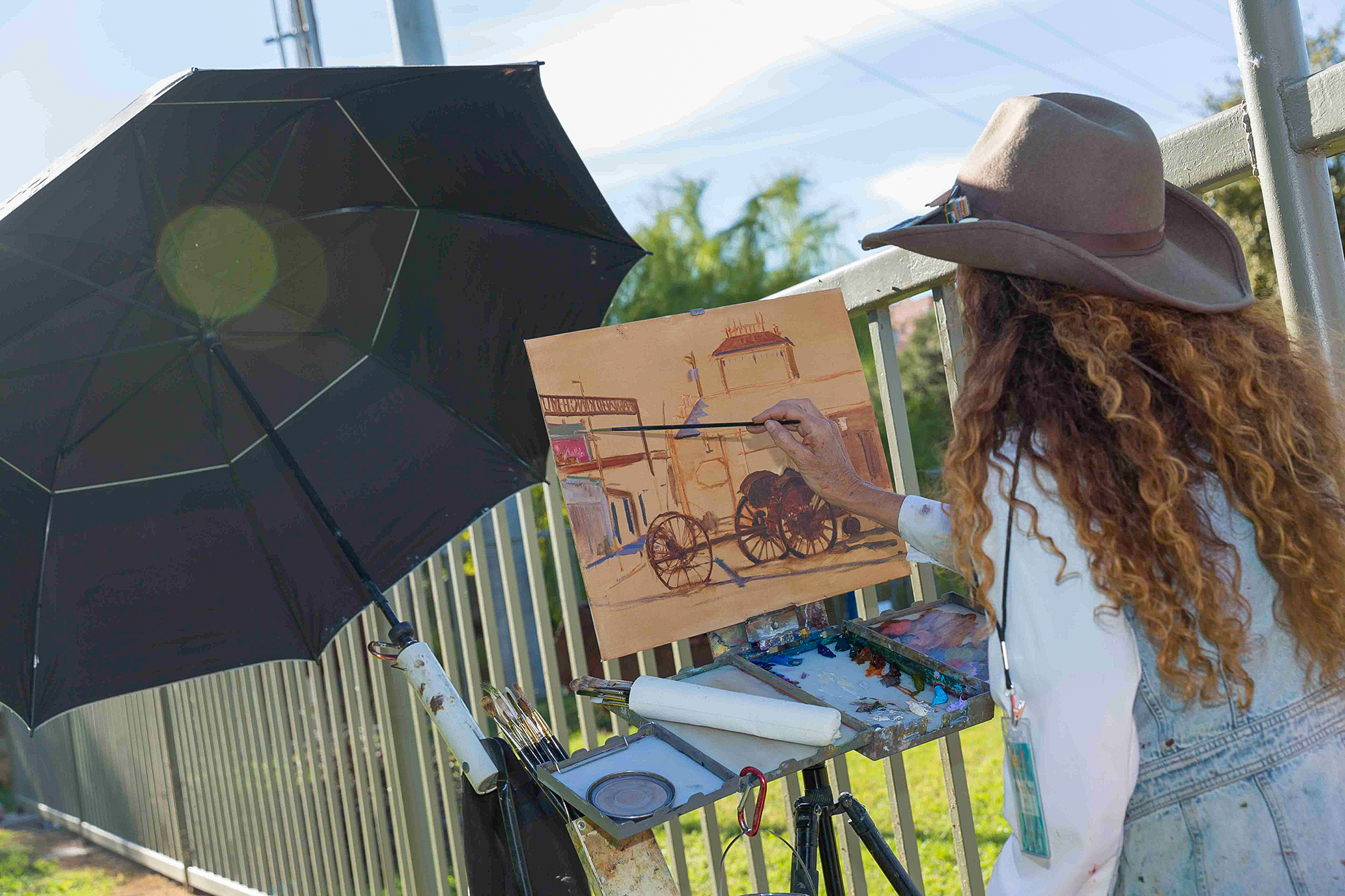 SATURDAY, OCTOBER 19
PRE-PAINT AFTERNOON in San Angelo!
Come WELCOME the Artists to town!
1:30 - 4:30 pm ~ Find the Artists at these "COME WATCH & ASK While I Paint" locations:
-Railway Museum of San Angelo - 703 S. Chadbourne, near the blue engine.
-At the Paseo de Santa Angela event: "Brews, Ewe, & BBQ Cook-off" - Corner of Ave. D & S. Oakes
-Eggemeyers General Store inside at 35 E. Concho, inside at the Model T
-FARM Museum - S. Oakes St. across from Eggemeyers General Store
Private Welcome Party for Sponsors tonight.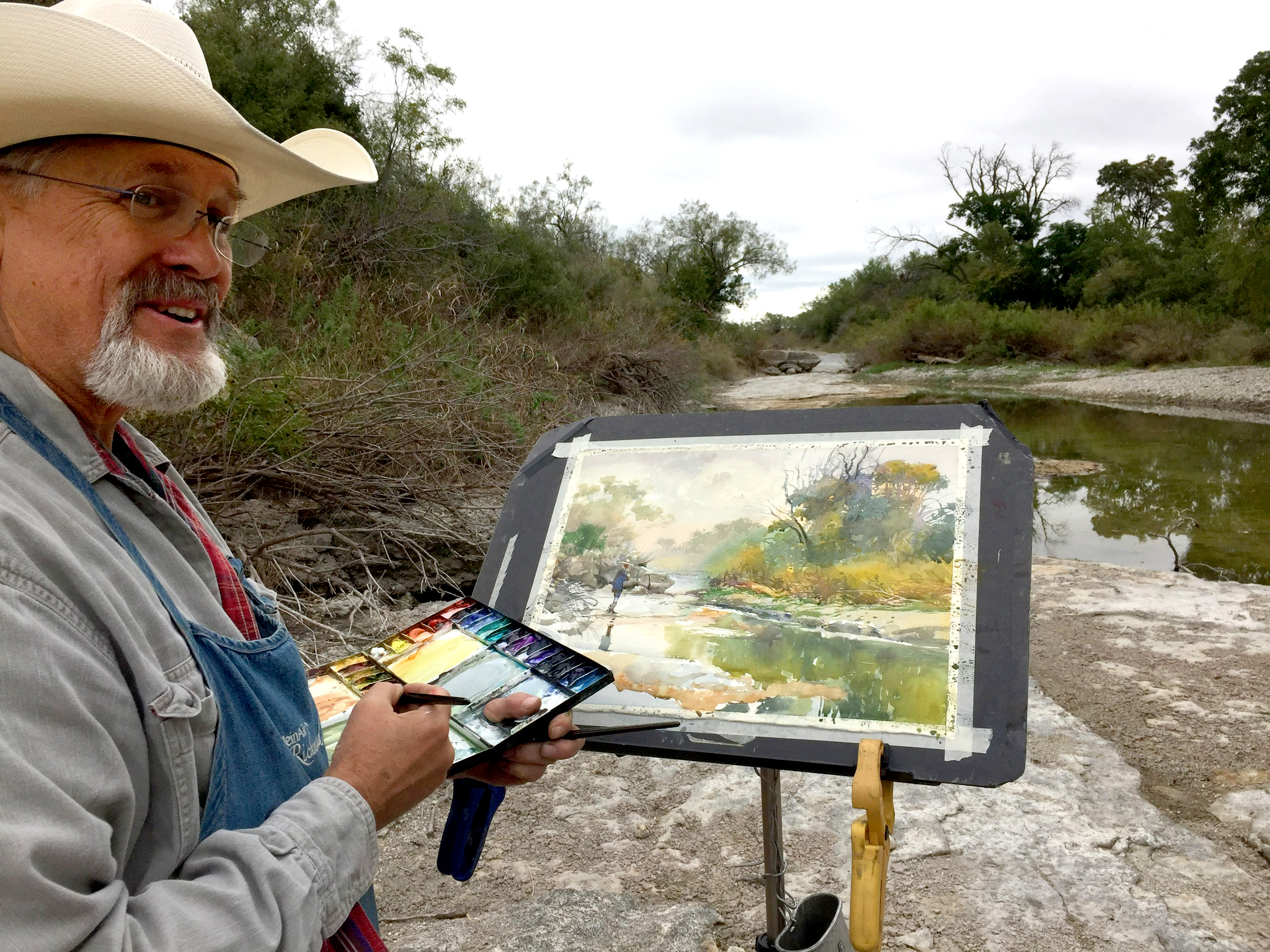 SUNDAY, OCTOBER 20
Competition Artist Registration and paint-out on private ranch.


MONDAY, OCTOBER 21
Competition Artist Paint-Out on private ranches near Christoval, site of the 1920's Texas Artist Camps.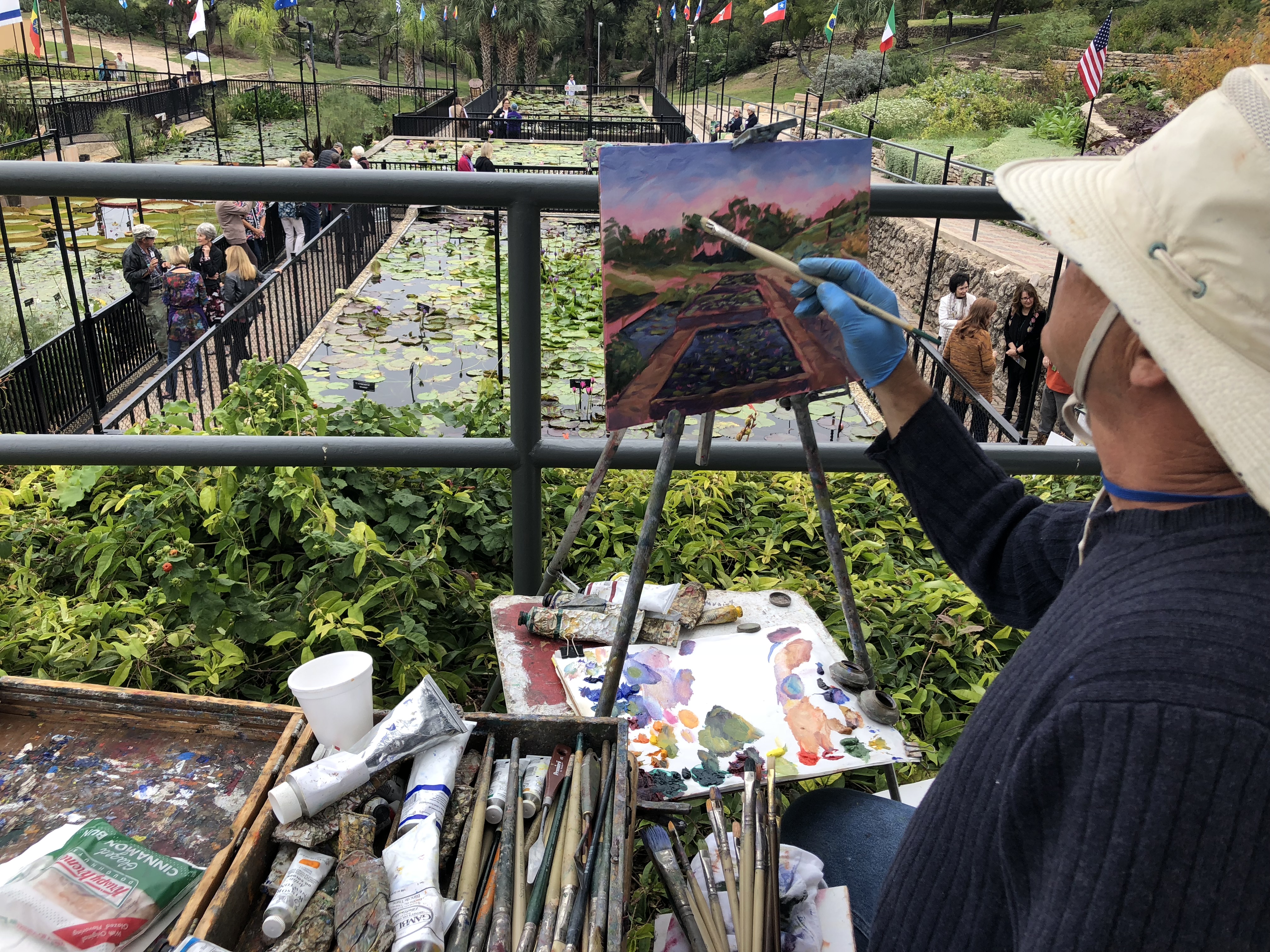 TUESDAY, OCTOBER 22
ALL Morning Paint-Out at the INTERNATIONAL WATERLILY GARDENS. Come wander among the lilies as around 15 EnPleinAirTEXAS Artists paint at the park.
LUNCHEON FOLLOWING at noon, at the St. Paul's Presbyterian Church accross the street from the Waterlily Gardens. ticketed event. Purchase Tickets
Some artists will be painting on private ranches that afternoon.


WEDNESDAY, OCTOBER 23
Competition Artists painting on private ranches north of San Angelo.
THURSDAY, OCTOBER 24
It's a FREE PAINT DAY for the Competition Artists ~ you may find them and you may not! They are allowed to paint anywhere in the area or return to favorite spots. If you would like to commission your favorite artist to paint something for you, make arrangements earlier in the week at EPAT Headquarters or with the artist.
FRIDAY, OCTOBER 25
Competition Artists turn-in their paintings from the week this morning, to prepare for judging, tonight's exhibition, and the awards party.

10:30 - 12:00 ~ Awards Judge Don Demers presents "What Makes A Painting Exceptional" at SAMFA Meeting room, One Love Street. Open to the public.
Find the Artists at these "COME WATCH & ASK While I Paint" sessions:
1:00 - 3:30pm ~ At the river behind the SA Museum of Fine Arts - Artists painting in every direction! Look for FLAGS!
Everyone is invited to watch, meet the artists, and learn!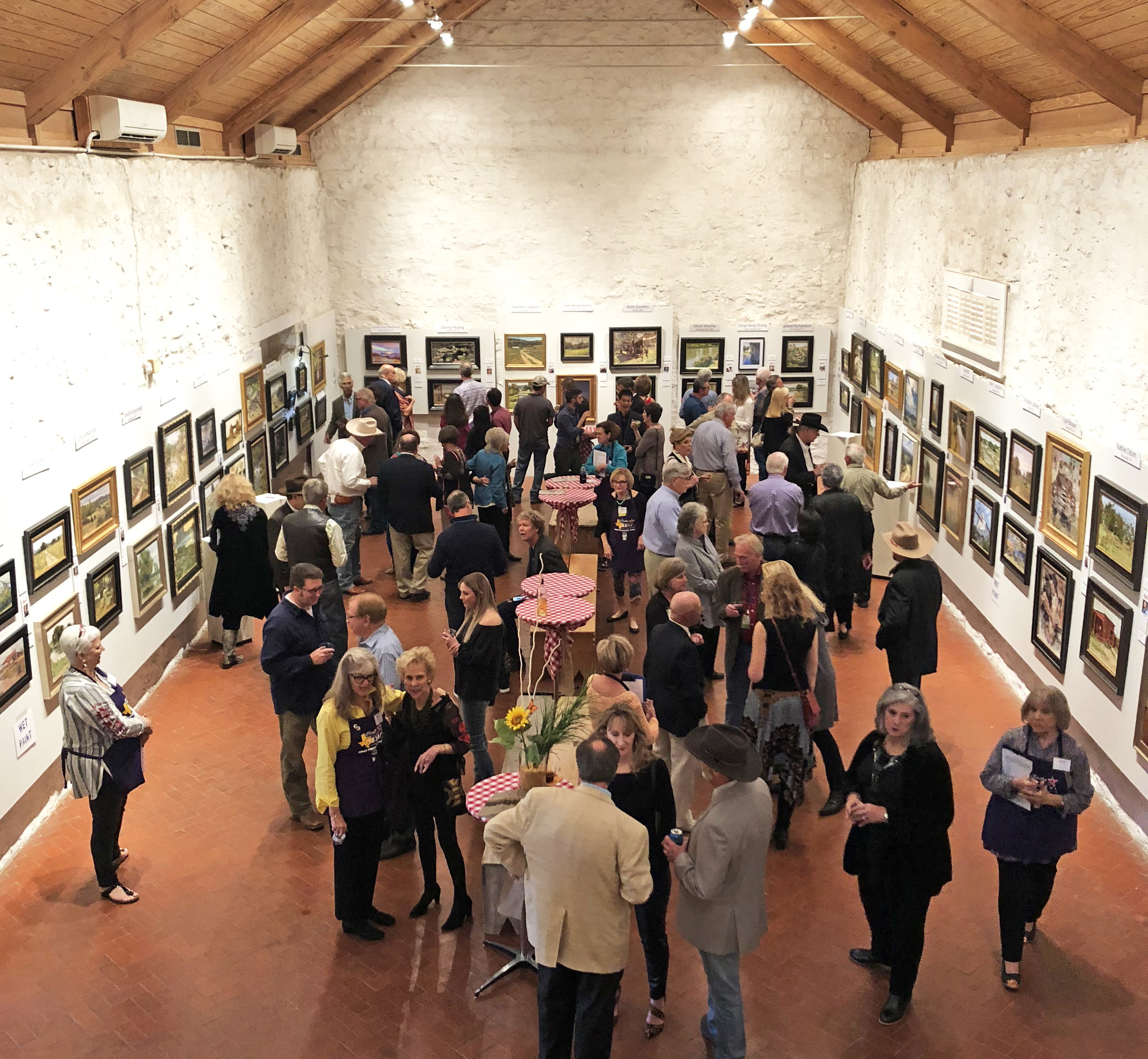 ART COLLECTORS STAMPEDE AWARDS PARTY & SALE ~ your first opportunity to see the 2019 Competition Paintings and everything that was painted this week! Purchase Tickets
6:30 to 8:30 pm ~ Quartermaster & Commissary Buildings, Fort Concho, 700 Burgess St. Your $100 Ticket includes a $100 credit towards purchase of a painting in the exhibit!
7:00 pm ~ AWARDS PRESENTATION by 2019 judge Donald Demers of Eliot, Maine.
The artists donate a portion of all sales back to benefit the San Angelo Museum of Fine Arts (SAMFA) free education programs for children in their 18 county service area.
SATURDAY, OCTOBER 26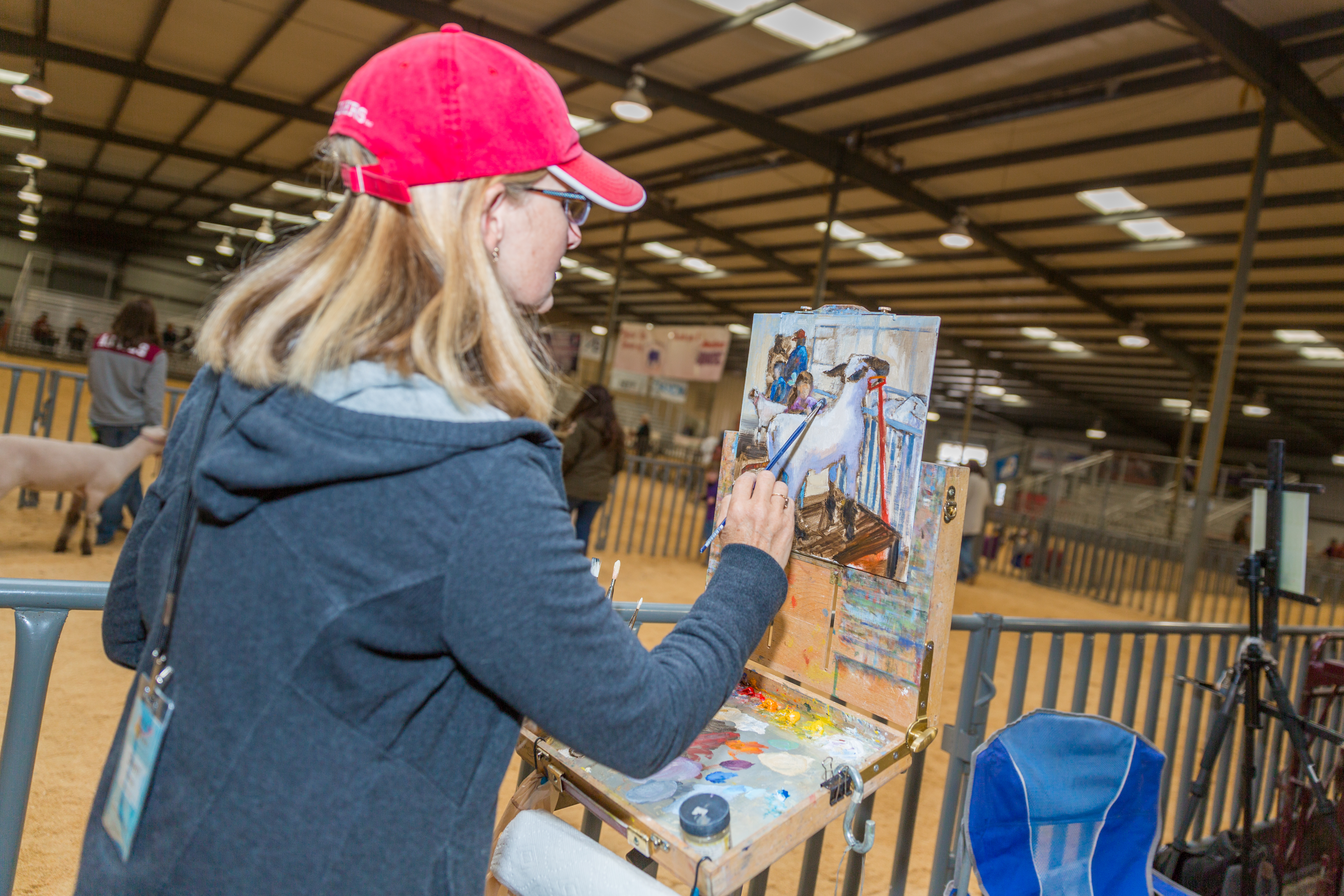 MORNING PAINT-OUT at the ROPING ~ 8am to Noon ~ Come wander and watch at the SA Fairgrounds for free. Meet the artists and 'rope yourself a colorful memory' of cowboys and paintbrushes! Sales today benefit the artists and SAMFA.
HIGH NOON ~ Exhibit, SALE & Awards outside the Housley Building.
7:30 - 9 am ~ ANY ARTIST MAY REGISTER ($10 fee) AND COME PAINT at the San Angelo Fairgrounds with the Competition Artists. Register to Paint
Everywhere you look you'll find something to paint - cowboys, horses, lambs & sheep at the Jr. Livestock show, horse-trailers, indoor calf-roping arena! More details under the PARTICIPATE Tab.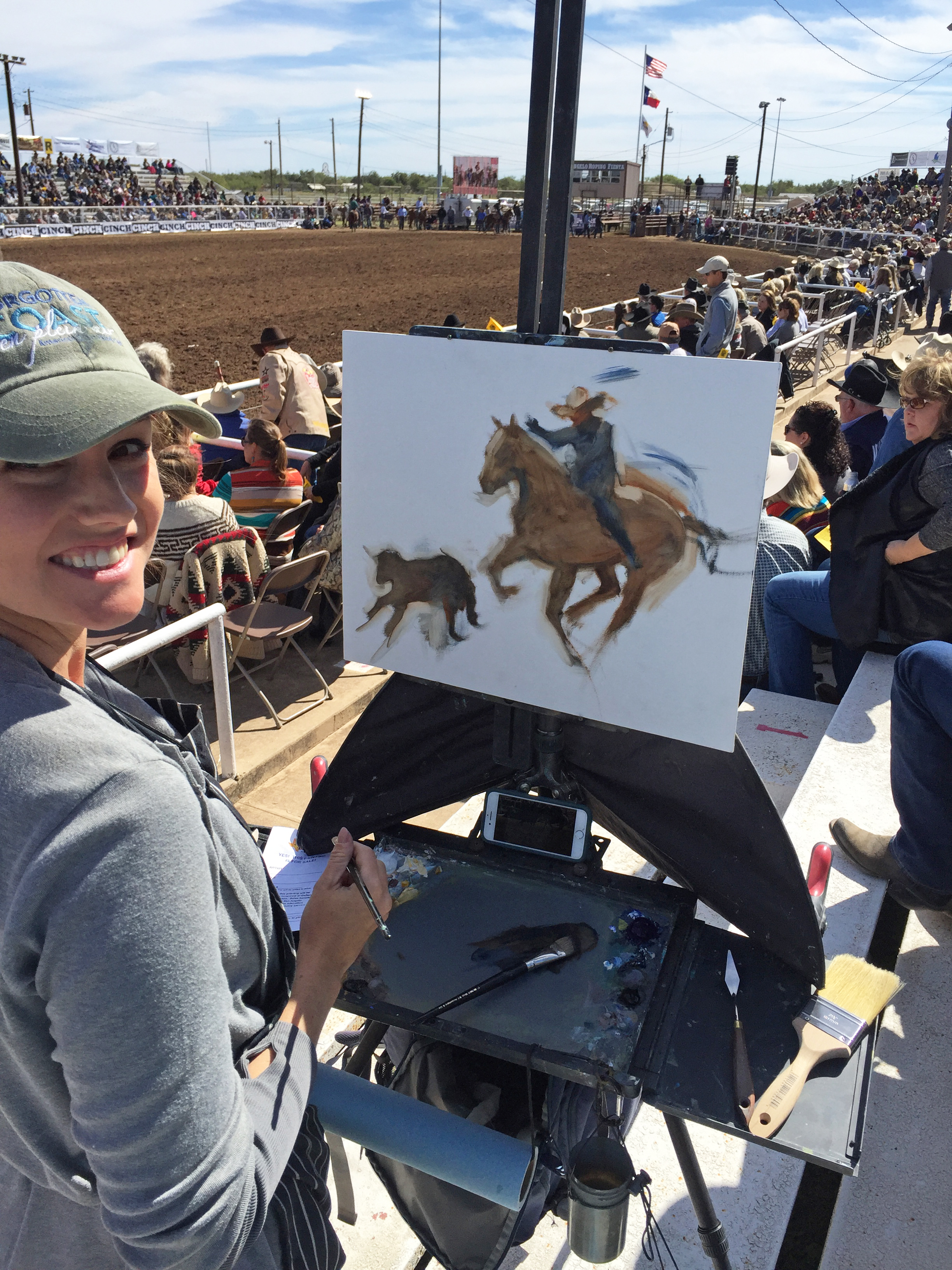 66th ANNUAL ROPING FIESTA ~ Some of the Competition Artists will stay and be in the stands this afternoon at the 66th annual San Angelo Roping Fiesta! Roping tickets are $12 and may be purchased at the gates.

ART IN THE AFTERNOON FOR KIDS ~ 2 & 3 pm! Kids will have their own 'Art Walk' at the exhibit at Fort Concho, vote for their favorite, and then sit down to paint, with local and some of the Competition Artists there to wander and help. Registration details under the PARTICIPATE Button!
FREE & sponsored by San Angelo Cultural Affairs Council! Art supplies and a frame from JFM Frames provided! Chick-Fil-A is offering FREE Kids Meal gift cards for each child, plus Free entree gift cards for each parent!

9am to 5 pm ~ EXHIBIT & SALE at the Quartermaster & Commissary Buildings at Fort Concho. Come see over 350 paintings to look at and purchase!
2 to 4 pm ~ PORTRAIT DEMOS in the exhibit buildings!

6:30 to 9:00 pm ~ 'ADIOS' TO THE ARTISTS PARTY!~ gather with the artists for a night under the stars and among the paintings at the Quartermaster Building! AND, be the first to lay eyes on the "MINI-PEARLS of the CONCHOS" Exhibit! Purchase Tickets
SUNDAY, OCTOBER 27
10 am to 3 pm ~ Last Day ARTIST EXHIBIT & SALE! Free to the public!
11 am to 1 pm ~ CHUCK WAGON BRUNCH with the ARTISTS! |
Purchase Tickets

1 pm ~ JUDGES TALK & STRAY CALF AWARD Presentation
Awards Judge Don Demers will speak about his choices for the winning paintings. Free to the public!
3 pm ~ EnPleinAirTEXAS closes for this year.
SAVE THE DATES FOR NEXT YEAR! ~ OCTOBER 18 - 25, 2020